Intozi's Smart Surveillance Solution for Delhi Police
Intozi's Smart Surveillance Solution for Delhi Police
Intozi's Smart Surveillance Solution is designed to empower the authorities to keep a check on crime using the most advanced technologies. It helps the police departments by providing important information related to vehicles involved in any incident. Instant alerts on SMS and Command and control rooms for suspected/stolen vehicles has increased the efficiency of the police department as they can take actions proactively. Intozi's highly accurate automatic number plate recognition algorithm is capable of reading almost every type of number plate during day & night. It reads numbers from two-wheelers/three-wheelers and fancy number plates with good accuracy.
How it works:
Step-1 Vehicle Number Scanning ANPR camera devices keep on scanning the number plates of each vehicle crossing from the location.
Step-2 Data Synchronization to Command & Control Room Captured vehicle data is sent to the Command & Control Room Dashboard from each ANPR device.
Step-3 CC Room Application lookups for stolen/suspected vehicles
The vehicle number is verified from Zip net's stolen/suspected Database Step-4 Alerts Generation
on-screen alerts in the Command & Control Room, Sound Notifications,SMS alerts to staff deployed in the fields.
Key Features:
Centralized Command & Control Room Surveillance
95% Accuracy on clearly visible number plates
High accuracy in two wheelers & three wheelers number plate reading
Integration with Zipnet for Stolen/Theft Vehicles
On screens Alerts/Pop-ups for stolen vehicles
Instant alerts through SMS
Works well on low bandwidth options such as 4G routers
Vehicle Trajectory
Manual Vehicle hot listing
Smart Alerts Configuration
Supports all Camera Brands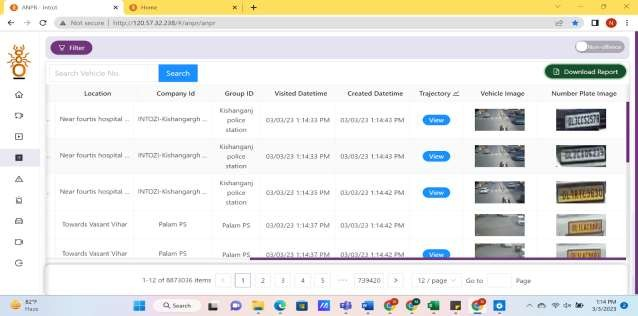 Advanced ANPR Engine:
Intozi's smart ANPR devices are designed for reading vehicle numbers in free flow traffic with high accuracy. ANPR engine is powered by advanced AI Technology which is capable of capturing and reading license plates in complete darkness, glaring light and adverse weather conditions.
Smart Alerts Configuration: Intozi's centralized surveillance dashboard facilitates supervisors/administrators to configure the alerts.Options to add/remove contact number and broadcasting the SMS alerts for specific groups of numbers is available through user friendly application interface.
Smart Analytics : vehicle log in dashboard provides traveling history of each vehicle.Frequency of vehicles traveling across multiple locations helps to identify the suspected vehicles. Option to segregate the vehicles traveling during a particular time period across specific locations is available.
Vehicle Trajectory: operator can track the vehicles using vehicle trajectory option.User need to enter vehicle number and entire journey along with date & time stamp and location gets displayed.
On Screen Instant alerts: Intozi's smart surveillance system has the feature to raise the instant alerts in the command and control room in the form of on screen pop ups as well as alarms in the form of sound notifications.
Vehicle Hotlisting: Intozi's smart surveillance system is very well integrated with police's Zipnet database as well as there is provision to add or remove the vehicles to hotlist manually.Operator can add a suspected vehicle very easily to the list and system can generate the alerts for the same.
Support for Multiple Camera Brands: Intozi's smart surveillance system not only supports ANPR devices from Intozi but also it can be integrated with most of the other ANPR Cameras available in the market. This feature helps to provide a single platform based solution even for ANPR cameras from multiple brands.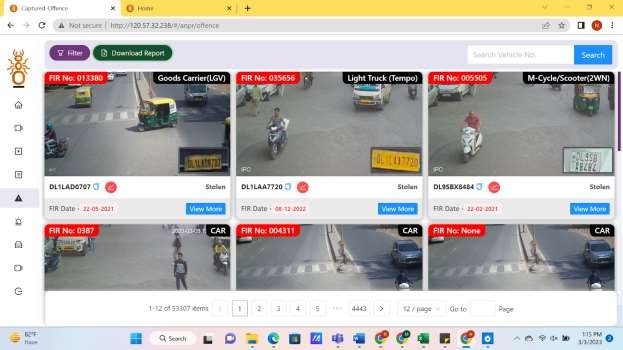 Intozi's Smart Surveillance System is successfully deployed across multiple districts of national capital Delhi as well as a few other districts across the country. Most of the districts have witnessed significant success to put a curb on crime related to vehicle theft as well as in tracing vehicles involved in incidents.
District: South-West, ANPR Device- 28 District: New Delhi, ANPR Device- 16 District: West, ANPR Device- 22
Bhiwani,Haryana, ANPR Device-40 Nuh,Haryan,ANPR Devices-10
Testimonials:
Intozi has built a very sophisticated and advanced solution to track stolen vehicles and it has helped us a lot since the day we rolled it out in our district. We can easily trace the vehicles involved in crime very easily.
Shri Avnish Kumar (IPS) Adll DCP, South West
Centralized monitoring system has been very instrumental in crime prevention and detection.Instant alerts for listed vehicles on mobile and whatsapp to on field staff has helped us reduce our response time and we are witnessing good success.
Ms Divya Devendran IPS
Addl DCP-II,West District
Alert Page:
1. SMS- vehicle details with location
2. Whatsapp- vehicle details with image and location
3. Email- vehicle details with vehicle traveling trajectory and images
4. On-Screen Alerts: sound notifications and on-screen pop-ups
Contact us: info@intozi.io 8448829818.