Traffic Management

Safe & Smart city

Manufacturing

Ware House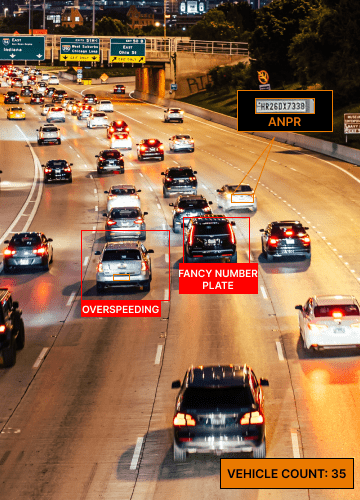 Number Plate Recognition
This feature helps quick detection and identification of vehicle number plate with real-time entry\exit stamping.
Vehicle Classification
An effective Traffic Management System designed for quick classification of vehicles. It helps in hassle-free monitoring of vehicles.
Vehicle count
This feature helps in estimating the road traffic density for a quick assessment of traffic conditions.
No Helmet
No Helmet Detection System helps to detect if a passenger is not wearing a helmet to accurately classify traffic violators.
Red Violation Detection
Enjoy a safer and secure driving experience and improve compliance with road traffic rules.
Wrong Lane
It detects a vehicle speeding in wrong lane. It helps to keep overspeeding and wrong driving in check.
Wrong way
Helps to curb the menace of vehicles entering on the highway from wrong way or going against the legal traffic flow.
Parking Violation Detection
Advanced vehicle detection accuracy with AI-powered solutions to regulate and manage parking violations.
Speed Violation Detection
Detect overspeeding vehicles in real-time to keep speedy vehicles in check and provider a safe driving experience.
No seatbelt
Quick detection of passenger not wearing seat belt. It helps in issuance of challans.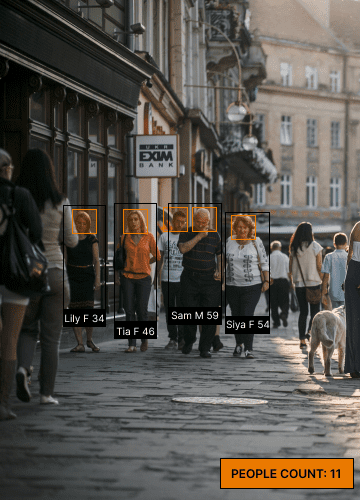 Facial Recognition
We offer Facial Recognition technology for a variety of applications and for traffic management, bringing innovation to each unique setting and ensuring reliable and efficient operation.
Intrusion Detection
The use of IDS or Intrusion Detection Systems allows for monitoring and identification of potential security breaches or suspicious activities, helping to ensure the safety and security of the system.
Incident Detection
This feature helps collect and analyse data to detect incidents. It uses various sensing technologies to help detect a potential incident.
Fence Jumping
Our advanced technology provides reliable detection and alerts for instances of fence jumping, ensuring the safety and security of the area.
Crowd Analysis
Our advanced feature automatically detects crowds and analyzes the data to effectively manage the flow of individuals. It assists in prioritizing signals and streamlining movement.
Loitering Detection
This feature helps in detecting in objects lying in an area for a long time to avoid any unpleasant situations.
People Counting
This feature gives insight into number of people entering or exiting a facility with real-time counting. The accurate analysis helps in managing the flow of people in a building.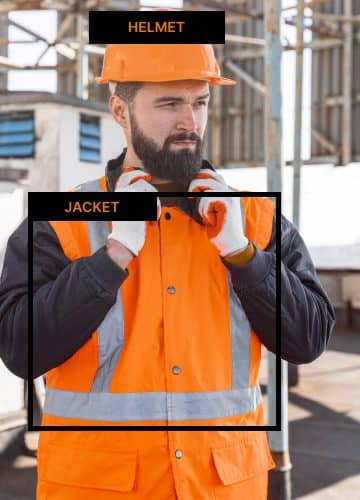 Fire Detection
It uses an advanced fire detection system to detect smoke and fire with its hyper-sensitive camera field view.
Object Counting
Automated object detection and counting helps in detecting accurate number of objects in a space helping to take well-informed decisions.
Person Activity Analysis
It detects and analyses person activity in a manufacturing facility and help to manage optimal resources efficiently and effectively.
Safety helmet detection
Safety management is ensured and implemented with accuracy and enhanced efficiency with this system detecting helmet wearing and avoid unsafe practices.
Footfall Count
It measures number of people entering and exiting a facility. It helps to manage the flow of people in a facility.
Intrusion Detection
Detects intruders in a facility and monitors suspicious activity to take timely safety and security steps.
Smoke Detection
This system detects smoke and gives a warning about possibility of fire. The smoke detection is done through devices installed in ceilings.
Safety jacket Detection
It helps detect safety jacket to ensure person wearing and adhering to personal protection guidelines.
Presence/Absence Detection
This feature helps in detecting the presence or absence of an object in a space. High resolution camera help to detect with utmost accuracy.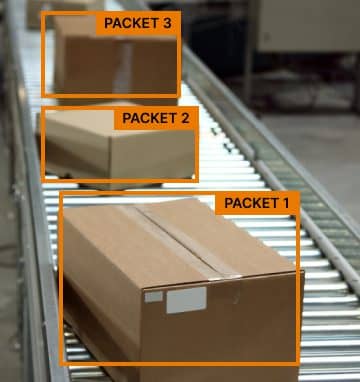 Vehicle TAT calculation
It measures and analyses time taken by transport vehicles to cover pre-determined distance.
Packet counting
It helps in keeping a tab on stored loose items, helping in managing warehouse inventory effectively and efficiently.
Inventory Management
The system helps keeping an a tab on stored inventory and tracking it until it leaves the warehouse. It helps a lot in making fleet management decisions.
Time calculation
High-end analytical tools help in accurate time calculation to make optimal utilisation of resources.
Vehicle Management
Supply and Logistics Management made easy with managing warehouse fleet. It helps in optimizing internal capabilities.
We create AI enabled Video Analytics Services
Intozi design and develop Artificial Intelligence based computer vision applications for all kinds of video analytics with offerings for a wide range of industries including retail, security, smart cities, traffic enforcement and hospitality among others. Intozi has an array of products starting from Automatic number plate recognition, Face recognition and Radar & Lidar based speed monitoring devices.
Ultra Scalable Solutions
Edge Processing Technologies
Advance Computer Vision Technologies
Delivers Unparalleled Accuracy